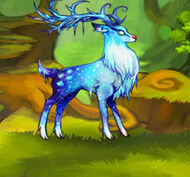 Lainedeer
Zodiac: Capricorn
Rarity: Epic
Attacks
Physical- Punch, levels up to Uppercut
Zodiac- Missile Toe
Special- Regenerate
The rarely-glimpsed Lainedeer is among nature's most elusive and majestic creatures. Its awe-inspiring celestial markings are a testament to its zodiac origins, and its icy antlers remind us of the wintry climes it inhabits. The Lainedeer is as deadly as it is beautiful, making it a prized catch among the greatest tamers.
Location: Everywhere. Festive moga quest
Ad blocker interference detected!
Wikia is a free-to-use site that makes money from advertising. We have a modified experience for viewers using ad blockers

Wikia is not accessible if you've made further modifications. Remove the custom ad blocker rule(s) and the page will load as expected.