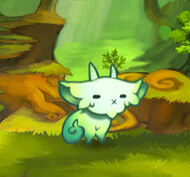 Meh
Zodiac: Capricorn
Rarity: Common
Attacks
Physical- Kick, levels up to Roundhouse
Zodiac- Pachewy Chomp
Special- Zodiac Vulnerability
These fluffy green goats can't help but get into mischief, even though they continually promise their parole officers that they'll behave. When they're not eating private property, they're using their horns to carve bad words into fences and barns.
Location: Spiral Path, Spiral Road, Northside, Heavenly Greens Gate.
Special note: Meh have a randomly triggered healing ability called Regrowth.
Description Typos
In the original Moga description in the Mogadex, there were mistakes in subject/verb agreement with the word "promises" and a misspelling of the word "carve".
Ad blocker interference detected!
Wikia is a free-to-use site that makes money from advertising. We have a modified experience for viewers using ad blockers

Wikia is not accessible if you've made further modifications. Remove the custom ad blocker rule(s) and the page will load as expected.